Cotty is one of four main characters from the 2013 movie "Spring Breakers".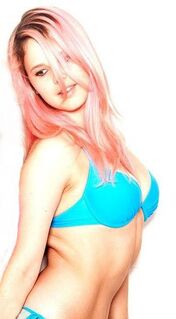 Cotty is an extremely wild girl, and shares most of her qualities with her friends Candy, Brit and Faith - she loves attention, as shown by her sexual efforts with men in Florida, and experiments with drugs, just like Brit and Candy. Cotty poses as the getaway driver in the robbing of the fast food restaurant, and is shown to instigate the crime by telling the girls to "pretend like it's a movie".
As their crime goes as a fail and wreck havoc before being arrested and ultimately bailed out by Alien, a gangster. Cotty gets involved in Alien's crime ring, but leaves after she is shot in the arm due to a drive-by shooting carried out by Big Arch on Alien's car. Cotty is portrayed by actress Rachel Korine.
Appearance
Edit
Cotty is slender with dyed pink, her roots are visible; showing that her hair is naturally dark.
Personality
Edit
Cotty is the most flirtatious, laidback and promiscuous of the girls. Though wild at heart, she ultimately has some good in her. She loves boys and liquor and is shown to stray off and do her own thing. Although she is a party animal, she is aware of when enough is enough, as shown when she leaves after being shot in the arm. She also loves adventure and seems to care that most about Faith's well being.
Cotty is portrayed by Rachel Korine.
Rachel Korine is actually the wife of Harmony Korine, who directed this movie.
Rachel Korine is the oldest of the girls in real life; she is 27.
Rachel Korine is the only girl cast member who hasn't featured on any teenager/children related television programmes - Selena, Vanessa and Ashley all have.
Cotty has been friends with Faith, Brit and Candy since kindergarden.
She regularly uses drugs.
She is the second person to leave after she is shot in the arm by Alien's enemy.
She did not participate in the restaurant robbing herself, however she did instigate it and posed as the getaway driver.
She, along with Faith, did not ultimately enter a casual relationship with Alien.
She is the only one of the girls who does not contact a family member whilst in Florida.
She sincerely regrets everything that she is done, as evident in the intense shower scenes after she is shot in the arm; the scenes show her breaking down after realising what she has gotten herself into.
"Alien?"
"Why are you here?"
"Good morning, sunshine!"
Am I the only one here that will miss our f****** little b**** Faith
"Never gonna get this pussy! Never gonna get this
pussy!